This book begins with a quiz for couples. The score of readers' test results will identify strengths or weaknesses in each of the Ten New Laws of Love. This analysis is a functional Instant Relationship Self-Diagnosis. Based on the scores from the test, readers will be directed to one or more of the ten chapters, each chapter a synopsis of one of the Ten New Laws of Love.   The relationship, being a combination and consequence of these strengths or weaknesses, can now be changed or reworked. Couples can now move forward with the awareness of what is and is not right for the relationship. In many ways this book is a primer for the longer and much more comprehensive The New Couple. What Is the State of Your Union serves as a mini-education of The Ten New Laws of Love, the principles that form the foundation of The New Couple.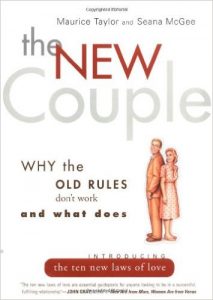 With fifty percent of marriages ending in divorce and the ever-increasing numbers of "trial" marriages, serial monogamists, and "scared singles," attaining a happy, long-lasting relationship can seem hopelessly out of reach. Conventional relationship advice promises such fulfillment in love, but really only adds to the confusion, anxiety, blame, and heartbreak. Where can couples turn when the old rules don't work anymore? Seana McGee and Maurice Taylor, couple educators and husband-and-wife psychotherapist team, have the answer.
Taylor and McGee's "Ten New Laws of Love"–based not only on what they've learned in their practice working two-on-two with couples from all over the world, but also on what's made their own marriage thrive–put couples andsingles on the path to attaining success in love. Each chapter introduces a basic principle such as chemistry, equality, and peacemaking, and through examples and powerful pointers, teaches you how to incorporate these natural relationship "laws" into your own couple, so that you and your partner can transform your troubles into triumphs and your frustration into satisfaction. Simple checklists help to determine what's working, what isn't, and how to progress toward more healthy, enduring love. For all couples–living together or married, straight or gay, with children or without–The New Couple offers tools for emotionally and sexually fulfilling relationships that last.
In the quest for safety, belonging, continuity, and comfort, we too often fall back on traditional, deeply ingrained expectations and assumptions about relationships, including such stifling stereotypes as the male provider and the good wife and mother. But these conventions ignore our individual needs to learn to love ourselves and to find and fulfill our true life's work, as well as our need for a more authentic, ongoing emotional connection to our mate. Maxims such as "do something nice for each other every day," "be positive," "never go to bed angry," and "treat your spouse as you would a stranger" are hardly sufficient to heal serious rifts and re-establish all-important trust. Taylor and McGee provide the keys for a deeper understanding of modern partners' "higher order needs" and the tools for their fulfillment wi Save & Exit thin the context of a committed, loving, and honest relationship.